Our Story
PEMF technology has existed for more than 60 years and has been clinically proven in over 10,000 studies to be effective. Typically used in clinical settings, our engineers, researchers and scientists uncovered an opportunity to miniaturize the technology and create a portable, wearable and shareable device. Developed in Australia and designed and manufactured in the United States, the Oska Pulse was born.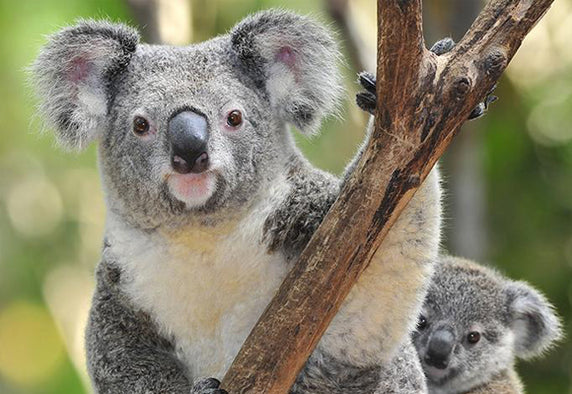 Who Is Oska?
Our name honors a koala who was badly burned in an Australian bushfire. He was not responding to medication and was crying in pain. The vet's friend suggested they place a PEMF device near the koala to help reduce the pain. Within a day he stopped crying, and in just a few days he started responding to treatment. He was released into the bush a few months later. The vet called him "Oscar" and we chose "Oska" because Americans and Australians say it the same way!
Our Leadership
Dr. Jeff Marksberry

Chief Medical Officer

Dr. Jeff Marksberry is a medical communications and scientific research specialist who has spent his career on the cutting edge of the electromedical products and medical device industries. Prior to joining Oska Wellness, Dr. Marksberry spent nine years as the chief science and clinical officer at Electromedical Products International Inc., where he provided leadership and strategic insight, and implemented global regulatory activities, clinical research and scientific communications. He also served as a clinical expert to support consult requests from the U.S. Department of Defense and Veterans Affairs Medical Center, as well as civilian physicians, healthcare professionals, payers and patients.

Dr. Marksberry received his M.D. from Saba University School of Medicine, Netherlands Antilles. He has conducted grand rounds at Walter Reed Military National Medical Center, Camp Lejuene, Camp Pendleton and Ft. Hood, and at over 30 Veterans Affairs hospitals across the U.S. He is a Certified Clinical Research Professional and a Fellow of American Institute of Stress, and has been published by the American Psychiatric Association, PTSD Journal, Practical Pain Management, Bioelectromagnetic Medicine and Army Medical Department Journal.

Darren Wedge

Founder, Board Member, Director International Operations

Darren Wedge founded a consultancy business prior to founding Oska Wellness, where he also lead business development. He has over 30 years experience in management, sales, marketing, team building, channel, and business development and board roles in global and local companies of all sizes. Darren is an entrepreneur and founded successful general and technology insurance businesses. Darren is the author of Business Owners Success Guide, a best-selling book to assist both current and potential business owners through the complex issue of starting and building their business. He holds a business degree from Deakin University, Melbourne, Australia

Greg Battle

Executive Chairman of the Board

Greg Battle is a former Director of John Deere Australia/New Zealand with 25 years in mechanical and production engineering, manufacturing control systems, and general management. He has owned and operated three McDonald's franchises in Australia for 18 years and spent 14 years in both State and National Senior Leadership roles within the franchise community. Greg is involved with investments for start-up organizations, providing both capital and extensive strategic management expertise.

Michael Hawker

CEO and Technical Director Medic Technology International Pty Ltd Perth, Western Australia

Michael's interest in biology was aroused at the age of 14 when his science teacher connected a battery across a frog's leg…. and it moved! However, his passion for anything electrical lead him into a 60-year electronics career in retail, wholesale, and manufacturing. Since being introduced to PEMF technology 16 years ago, Michael has devoted his time to studying neurophysiology and cellular biology, with a particular interest in the body's response to electromagnetic fields; this resulted in his development of the Oska Pulse. With so many positive outcomes, Michael's passion is to see further development of the Oska Pulse, not only for individuals but for the health and medical industry - worldwide.
Medical Advisory Board
Dr. Joseph Shurman

Anesthesiologist, Pain Consultant, Chairman of Pain Management at Scripps Memorial Hospital, La Jolla, CA

Dr. Joseph Shurman received his medical degree from Temple University. He received his internship at Chestnut Hill Hospital in Philadelphia, followed by an anesthesia residency with Massachusetts General Hospital (Harvard), which included a three-month pediatric anesthesia and intensive care rotation at Philadelphia Children's Hospital. Dr. Shurman is currently an anesthesiologist and a pain consultant, as well as chairman of pain management at Scripps Memorial Hospital, La Jolla, California. In addition, he is a past clinical assistant professor at the University of California, San Diego.

Dr. Shurman is board certified by the American Board of Anesthesiologists with added qualifications in pain management, and is a diplomate of the American Academy of Pain. He is chairman of Scripps Memorial Pain Committee, a former board member of Whittier Diabetes Institute, as well as a former member of the International Pain Society, the International Society of Anesthesiology, the American Society of Anesthesiology, and the Regional Anesthesia Society. In addition, Dr. Shurman is founder of the Share the Risk model, is on the editorial advisory board and Viewpoint moderator of the Practical Pain Management journal, and is a California Medical Board reviewer. He is former chair, Department of Anesthesiology, Scripps Memorial Hospital, former medical director of clinical research, and former chair of Pain Management Anesthesia Service medical group. An active researcher, Dr. Shurman also lectures both nationally and internationally on chronic pain and pain management.

Dr. Mark D. Wiederhold, M.D., Ph.D.

Fellow of the American College of Physicians

Mark D. Wiederhold is an Internal Medicine Specialist with extensive experience in Critical Care Medicine. He was a member of the medical staff of Scripps Clinic Green Hospital, Pomerado Hospital, and the Naval Hospital at Camp Pendleton. Over the past 38 years, he has been involved in a variety of clinical and research settings. He was the Director of Clinical Research, Department of Internal Medicine at Scripps Clinic, and was a Clinical Assistant Professor in Internal Medicine at University of California San Diego School of Medicine. He is a Fellow of the American College of Physicians, a Certified Physician Executive (CPE), a Diplomate of the American College of Physician Executives, and certified by the Certifying Commission in Medical Management. He is currently the President of the Virtual Reality Medical Center and develops simulated environments that enable the user to achieve success in training, therapy and educational goals. He has developed over 200 virtual environments for the treatment of PTSD and anxiety disorders. VRMC clinics have treated over 1,000 patients with combined virtual reality exposure therapy and physiological monitoring.

Dr. Murray Rosenthal

Doctor of Osteopathic Medicine and Fellow of the American Psychiatric Association

Dr. Murray Rosenthal, Doctor of Osteopathic Medicine and Fellow of the American Psychiatric Association is a board certified Psychiatrist and Fellow of the American Psychiatric Academy, with more than 30 years of experience in clinical practice and research and as a Chief Executive Officer and Medical Director.

He served as the Chief Medical Officer at Millennium Laboratories, Inc., and was Senior Medical Director and CEO of California Clinical Trials Medical Group, Inc., where he oversaw over 400 clinical trials in all areas of CNS research. His research experience includes over 26 years of clinical trials and basic science research.

Throughout his residency at UCSD and clinical practice, he maintained his interest in and connection to clinical medicine via a wide range of consultative and teaching experiences. While in active practice from 1981 to 1999, Dr. Rosenthal served as a consultant to a number of specialty medical units including the head trauma and stroke unit, cardiac rehabilitation and transplantation programs at Sharp Memorial Hospital. He also served as the Medical Director of the inpatient eating disorders unit (Balance Program) at Harbor View Medical Center from 1986 to 1991. Over his professional career, Dr. Rosenthal has given hundreds of lectures on a wide range of topics from recognizing and treating mental illness in the context of medical conditions and, more recently on managing chronic pain. He has extensive media experience having been a guest on numerous TV and radio shows in the San Diego area. In 1995, he co-hosted the Sally Jesse Raphael show from New York. Prior to his medical training, Dr. Rosenthal received an MS in Biochemistry from the Milton S. Hershey Medical Center.

Dr. Krishnan Chakravarthy

MD, PhD

Dr. Krishnan Chakravarthy, MD, PhD, is an anesthesiologist who specializes in multi-modal pain management. He completed fellowship training in pain management at Harvard Medical School, Massachusetts General Hospital and residency training in anesthesiology at Johns Hopkins School of Medicine, The Johns Hopkins Hospital. Dr. Chakravarthy earned his medical and doctorate degree from the University at Buffalo School of Medicine and Biomedical Sciences and spent a portion of his doctoral work at the United States Centers for Disease Control. As an Assistant Professor in the Department of Anesthesiology, and Affiliate Professor in the Department of Nanoengineering, Dr. Chakravarthy instructs medical students, residents and fellows at UC San Diego School of Medicine and San Diego VA hospital. In addition, he runs his own National Institute of Health funded laboratory that is involved in cutting edge translational research and clinical trials focusing on new medical devices and drug therapies for chronic pain management. His research interests include incorporating new technology into advancing pain care. This includes advancing the field of neuromodulation, novel small molecule drug development, and novel medical device development. His research work has been featured in national and international venues and has been published in top journals, including Anesthesiology, Proceedings of the National Academy of Sciences of the United States of America, and Pain.

Dr. Chakravarthy has published extensively and currently serves on the editorial board of several national and international peer reviewed journals, and committees on organizations such as the International Neuromodulation Society, and American Society of Pain and Neuroscience. He is the recipient of several national clinical and research awards including the inaugural young innovator award from the American Society of Pain and Neuroscience.

An entrepreneur, Dr. Chakravarthy is a founder of several biotechnology startup companies focusing on applications of nanotechnology in the pain space, small molecule drug development, and the field of neuromodulation. He is a consultant and on the medical advisory board of some of the largest medical device companies worldwide to help advance new products centered around patient care.
OSKA PULSE IS A MEDICAL PAIN RELIEF DEVICE.
100% Drug Free | Doctor Recommended | FSA & HSA Reimbursable