Case Studies Supporting PEMF for Shoulder
Effect of Pulsed Electromagnetic Fields on Human Tenocyte Cultures From Supraspinatus and Quadriceps Tendons
Abstract
Objective: To investigate the effects of pulsed electromagnetic fields (PEMFs) on human tenocyte cultures and to assess whether PEMFs could represent a viable therapeutic option in tendon pathologies.
Design: Controlled laboratory study in which primary human tenocytes were isolated from healthy supraspinatus and quadriceps tendons and were exposed to the electromagnetic field stimulation. Cell growth and cell cycle were evaluated after 72 hrs, 5 days, and 7 days of continuous PEMF exposure. In quiescent confluent tenocyte culture, an in vitro cut was mechanically produced, and the width of the cell-free zone was measured 12, 24, and 36 hrs after the injury in the presence of PEMF stimulation. Total collagen accumulation was also evaluated after 5, 7, and 14 days of PEMF exposure.
Results: Tenocyte growth analysis, cell cycle analysis, and total collagen accumulation did not show statistically significant differences between exposed and control groups. Exposure to PEMF significantly accelerated cut closure 12 and 24 hrs after the injury.
Conclusions: PEMFs comparable with the ones used for the management of pseudoarthrosis stimulate closure of an in vitro laceration of a tenocyte monolayer. Our results provide the preliminary in vitro work and the basis to support the study of the in vivo effects of PEMFs on tendinopathies.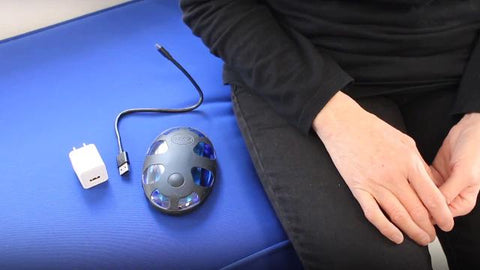 Effectiveness of pulsed electromagnetic field therapy in lateral epicondylitis
Abstract
We aimed to investigate the efficacy of pulsed electromagnetic field (PEMF) in lateral epicondylitis comparing the modality with sham PEMF and local steroid injection. Sixty patients with lateral epicondylitis were randomly and equally distributed into three groups as follows: Group I received PEMF, Group II sham PEMF, and Group III a corticosteroid + anesthetic agent injection. Pain levels during rest, activity, nighttime, resisted wrist dorsiflexion, and forearm supination were investigated with visual analog scale (VAS). Pain threshold on elbow was determined with algometer. All patients were evaluated before treatment at the third week and the third month. VAS values during activity and pain levels during resisted wrist dorsiflexion were significantly lower in Group III than Group I at the third week. Group I patients had lower pain during rest, activity and nighttime than Group III at third month. PEMF seems to reduce lateral epicondylitis pain better than sham PEMF. Corticosteroid and anesthetic agent injections can be used in patients for rapid return to activities.
Pulsed Electromagnetic Field and Exercises in Patients With Shoulder Impingement Syndrome: A Randomized, Double-Blind, Placebo-Controlled Clinical Trial
Abstract
Objective: To evaluate the effects of pulsed electromagnetic field (PEMF) and exercises in reducing pain and improving function and muscle strength in patients with shoulder impingement syndrome (SIS).
Design: Double-blind, randomized controlled trial with a 3-month posttreatment follow-up.
Setting: Outpatient rehabilitation of a public hospital.
Participants: Patients (NZ56) between 40 and 60 years of age, with a diagnosis of SIS, were randomly assigned to receive active PEMF (nZ26; mean age, 50.1y) or placebo PEMF (nZ30; mean age, 50.8y).
Interventions: After 3 weeks of active or placebo PEMF, both groups performed the same program of exercises that focused on shoulder strengthening.
Main Outcome Measures: A visual analog scale, the University of California/Los Angeles shoulder rating scale, the Constant-Murley shoulder score, and handheld dynamometry for muscle strength were used as outcome measures at baseline (pretreatment), at 3 weeks (after active or placebo PEMF), at 9 weeks (postexercise), and at 3 months posttreatment.
Results: Patients in the active PEMF group had a higher level of function and less pain at all follow-up time frames compared with baseline (P<.05). However, the placebo PEMF group had increased function and reduced pain only at the 9-week and 3-month follow-ups (P<.05) that is, after performing the associated exercises. For the shoulder dynamometry, the active PEMF group had increased strength for lateral rotation at 9 weeks (P<.05), and increased strength for medial rotation at 9 weeks and 3 months (both P<.05) when compared with baseline. There was no significant difference for shoulder strength in the placebo PEMF group (P>.05), as well as no significant differences (P>.05) for all outcome measures.
Conclusions: The combination of PEMF and shoulder exercises is effective in improving function and muscle strength and decreasing pain in patients with SIS. However, these results should be carefully interpreted because of the lack of differences between groups.
Case Study Reference Source:
1. Effect of Pulsed Electromagnetic Fields on Human Tenocyte Cultures From Supraspinatus and Quadriceps Tendons (Authors: "Vincenzo Denaro, MD", "Laura Ruzzini, MD", "Simona Angela Barnaba, MD", "Umile Giuseppe Longo, MD", "Stefano Campi, MD", "Nicola Maffulli, MD, MS, PhD, FRCS(Orth)", "Alessandro Sgambato, MD")

2. Effectiveness of pulsed electromagnetic field therapy in lateral epicondylitis (Authors: Kaan Uzunca, Murat Birtane, Nurettin Taştekin)

3. Pulsed Electromagnetic Field and Exercises in Patients With Shoulder Impingement Syndrome: A Randomized, Double-Blind, Placebo-Controlled Clinical Trial (Authors: "Diego Galace de Freitas, PT, PhD", "Freddy Beretta Marcondes, PT", "Renan Lima Monteiro, PT", "Sabrina Gonc¸alves Rosa, PT", "Patrı´cia Maria de Moraes Barros Fucs, MD, PhD", "Thiago Yukio Fukuda, PT, PhD")
Why Oska Pulse?
Portable

Oska Pulse is a portable, wearable device that targets back pain at its source.

Doctor Recommended

Clinically tested and doctor recommended, it stimulates the muscle and tissue in the back area to encourage repair and relieve aches and pains.

Drug Free

Drug-free, non-invasive and with no known side-effects Oska Pulse utilizes Pulsed Electromagnetic Field technology – or PEMF – To enable the individual to start living with less pain.
Oska Pulse is FSA and HSA reimbursable.
It can be used complementary to other treatments as part of your overall management plan or as a stand-alone therapy to soothe muscles and relieve aches and pains.
The Technology Behind Oska Pulse
You're probably asking yourself – why have I never heard of Pulsed Electromagnetic Field therapy (PEMF)? Although not widely known, PEMF technology has been utilized in the medical community for over 60 years. Electromedicine is slowly making a resurgence in the United States and Oska Pulse is unique in that it is one of the only portable and affordable PEMF devices on the market.
PEMF uses low level electromagnetic waves that target the source of the various types of pain encouraging recovery at a cellular level, speeding up the natural healing processes of your body.
How It Works?
Oska Pulse emits a continuous pulsing field that passes through all tissue types. These fields will also pass through clothing, so Oska Pulse does not have to be directly in contact with your skin. Imagine a pebble being thrown into a lake – small waves radiate from the center until they disappear into the distance.
Similarly, small electromagnetic waves produced by Oska Pulse travel to the pain site to soothe and relieve.
Turn on Oska Pulse

Place on or near the area of pain

Enjoy a 90-minute session
How Is Oska Pulse Used?
Oska Pulse does not need to make direct contact with your skin or even be on your body. The field has a diameter of 22", so Oska Pulse can be positioned near the area of pain and still be effective. Within 8-10" of the pain is optimal. Oska Pulse offers the flexibility of treatment as you go about your daily activities. Use it at home, on-the-go or in partnership with your doctor.
It can be placed in your pocket or purse depending on where you need pain relief. With the included compression wrap, Oska Pulse can also be worn over or under clothing around the leg, arm or waist. Oska Pulse is powered by a rechargeable battery, just like your cell phone, that is simply charged using the included cable. A full charge takes just 3 hours and will then last for approximately 10 hours of use.
Looking Forward
In most people, back pain will subside within 6 weeks. Every back is unique. And in some cases ongoing pain management is a reality, especially with aging. With each case of recurrent or ongoing back pain it is important to find the treatment – or combinations of treatments – that work for the individual. When this point is reached, most people are able to continue to lead a full active life at work and at play. This is where Oksa Pulse may be able to help.
Oska Pulse is a medical pain relief device.
100% Drug Free | Doctor Recommended | FSA & HSA Reimbursable