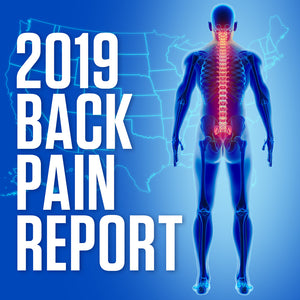 The everyday activities of 31 million Americans are negatively impacted by back pain requiring over $50 billion to be spent on treatments annually (American Chiropractic Association). To better understand the impact of chronic back pain on various aspects of daily life, we conducted a survey of more than 1,000 American adults with back pain. The following 2019 Back Pain Report provides findings and data on topics ranging from medication use, severity of pain and effects on daily activity.
Medication Use
Our 2019 Back Pain Survey reveals that nearly half of respondents with back pain take over-the-counter medications, like ibuprofen and acetaminophen, at least five to seven days a week – however, most don't feel relief. According to the survey, fewer than 20 percent of respondents who take over-the-counter medications find them to be helpful in consistently relieving their back pain.
The Back Pain Survey found that two-thirds of respondents take opioids, like codeine, methadone and hydrocodone, five to seven days per week. The findings indicate that opioid users may be at greater risk for combining medications as 65 percent of respondents who use opioids also take over-the-counter medications.
Jonathan Kost, M.D., founder and medical director of the Hartford Hospital Pain Treatment Center and The Spine and Pain Institute at Midstate Medical Center, and Oska Wellness medical advisory board member, weighs in:
"The findings of this back pain survey are concerning. Although the respondents are not receiving significant relief from over-the-counter medications, they continue to take them. This puts them at potential risk of medical issues such as gastritis and kidney failure – and as indicated by these findings, most of these patients are still suffering from the same degree of pain."
– Dr. Jonathan Kost
Murray Rosenthal, M.D, Doctor of Osteopathic Medicine and fellow of the American Psychiatric Association, also an Oska Wellness medical advisory board member, offers another perspective:
"We caution against regular, long-term use of over-the-counter medications, specifically acetaminophen and nonsteroidals because of the adverse side effects of these medications.  However, I imagine the respondents who continue to take these drugs, despite knowing the risks, and many others with chronic pain have lost hope that there are other options that might help them, or serve them better."
– Dr. Murray Rosenthal
Jonathan Kost, M.D. adds, "We have been waiting for an effective and safer treatment of painful conditions for years."
Severity of Pain
Looking closer at the nature of back pain, more than 90 percent of respondents have had pain for longer than three months, which is the threshold definition of chronic pain (Note: NIH ref - https://www.ncbi.nlm.nih.gov/pmc/articles/PMC4450869/). More than 80 percent have been in pain for longer than a year. Lower back pain is most common, with 75 percent of respondents reporting this as the location where their pain resides. Half of survey respondents experience pain every day, and more than 80 percent are in pain about half of every week or more frequently. Of note:
On a typical day, on average, more than 60 percent of respondents report their pain is a five or higher on a pain scale of 1-10. A level of five is defined as "distracting."
At its worst, about 70 percent of respondents rate their pain as a six (distressing) or more, with 26 percent saying it is intense (8 on pain scale) or severe (9 on pain scale) and nearly six percent unable to move (10 on pain scale).
Impact of Back Pain on Daily Life
It is not surprising that many areas of respondents' lives are negatively affected by back pain. This includes family time, mood, walking, professional work and housework, sleep, fitness/exercise, social life, enjoyment of life, weight/BMI, and traveling for work or fun.
In particular, more than 60 percent of respondents noted that back pain impacts their sleep. Sixty-nine percent noted a negative impact on general activity, which includes time with family; 62 percent reported an effect on housework and professional work, and 55 percent struggled with the ability to walk.
Back pain is one of the most common reasons for missed work in America (American Chiropractic Association).
Alternative Methods
Desperate for relief, respondents are trying a variety of other treatments besides over-the-counter medications and opioids. Respondents report having tried electrotherapy/TENS, Pulsed Electromagnetic Field (PEMF) therapy, physical therapy, chiropractic, CBD, massage, and heat/cold therapy and more in their search for relief.
The survey confirmed that respondents have found non-drug, alternative methods of pain relief to be generally effective at relieving pain. Eighty percent of people using non-drug alternatives found them to be sometimes, mostly or extremely helpful. 
Of all respondents, over 90 percent expressed that they would want to use or would consider using a non-drug alternative if they knew of one that might work for them. Respondents noted they are open to non-drug alternatives because they prefer using therapies they can manage themselves (50 percent) and that treat the underlying cause of pain (50 percent), they don't like the side effects of drugs (34 percent), and medications either aren't working for them (14 percent), are too expensive (22 percent) or they're concerned the drugs are addictive (30 percent).
For more information or for additional details from the survey, please contact press@oskawellness.com.
About Oska Wellness
Oska Wellness is the maker of Oska Pulse, a wearable, non-drug device that relieves pain using Pulsed Electromagnetic Field (PEMF) technology, which has been used in doctors' offices to relieve pain for decades. We're committed to helping people live more active lives with less pain. To learn more about Oska Pulse, please visit www.oskawellness.com.
---
Share this post
---
---