Teaming Up:  Fitness and Health Partnerships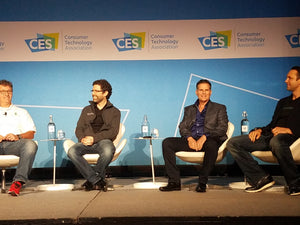 Oska CEO Greg Houlgate at CES Panel
LAS VEGAS, Nev. - When and where is the right place to talk about the latest and greatest wearable medical technology devices?
It would be right here at the mega-blockbuster technology powerhouse conference called CES, so that's precisely where Greg Houlgate of Oska Wellness hit the stage and lit up a panel conversation with his keen insight.
"If you are addressing a problem - and pain is happening to one in three Americans – and nobody is offering a solution, then if you deliver technology that solves a real problem, well, we put the power of controlling pain in the palm of your hand," Houlgate said.
So what statement could be any more direct than that?  It's as if Houlgate had his finger on the pulse of the situation, and in fact, he did, only it was the Oska Pulse.
Houlgate, the CEO/President of Oska Wellness, starred in a rousing discussion in the FitnessTech Summit of the Consumer Technology Association.  The topic served up was titled "Teaming Up:  Fitness and Health Partnerships."
The panel discussion filled up one of the lush, carpeted convention rooms of the Venetian, not far from the Sands Expo and Convention Center, where Oska Wellness is a showcase exhibitor in the Wearable Technology Fitness sector of the CES show.
After the program's opening remarks of Steven LeBoeuf, who is the president and co-founder of Valencell, Inc., Houlgate joined moderator Eric Taub from the New York Times and three other panelists.  They were Jonathan Palley of Spire, Davide Vigano of Sensoria Inc. and Charles O'Connell of Fitscript.
"Success in health and medical wearables will require an understanding of both commercial and medical markets as well as clinical validation," LeBoeuf said.
Houlgate said Oska Wellness has got that covered already.
But he also pointed out that technology is only as good as its relevancy.  In other words, if it's not used, then it will be ignored.  As a non-invasive method to combat pain and a clear alternative to prescription drugs, the Oska Pulse is perfectly situated in the wearable market because of its continued and evolving relevant technology.
Part of the reasoning behind why the Oska Pulse is successful, Houlgate said, is fairly simple.  All of us who feel the effects of chronic pain are able to find relief with the Oska Pulse and then they can share the positive experience with others. 
Said Houlgate:  "Your day improves and now you have an advocate.
"Relevant technology has to be more personal," he said, and mentioned the new Oska Pulse Active App that debuts this spring.   "We're all trying to inspire people go get out and improve their lives . . . people are married to devices, something is there that they can latch on to.
"Medical devices sold over the counter, that's where we're going."
And actually, that's where Oska Pulse already is.
---
Share this post
---
---