How To Support Pain Awareness Month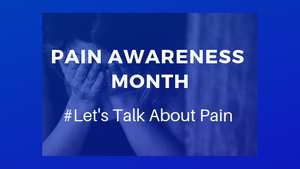 Over 100 million Americans suffer from pain, together with many more millions across the globe. Most of our readers have pain or are close to someone who does, so you likely know first-hand the stigma, shame and void of resources that surround this "invisible illness."  We join others in the industry to help advocate for those in pain to receive the care they need and deserve. That is why we're proud to participate in Pain Awareness Month this September, and have joined the U.S. Pain Foundation in its campaign to shine a light on the issue of pain. #LetsTalkAboutPain!
Similar to other well-known campaigns like Breast Cancer Awareness Month or Movember's No Shave November, Pain Awareness Month was established to help the invisible illness of pain receive national recognition, and remind everyone how the issue affects individuals, families, communities and the country as a whole. We encourage you to advocate for those in pain and join in spreading awareness and information about pain this month. Here are a few ways you can get involved:
Wear Blue: The U.S. Pain Foundation has declared September 27th Wear Blue Day. Blue is the color for pain awareness, so choose a blue shirt or dress to wear to school or work to help people with pain feel included, supported and seen. You can also wear a blue ribbon or create blue ribbon pins for others to wear. If you're interested in hosting a designated Wear Blue Day, visit the U.S. Pain Foundation website to let them know – they'd love to share photos on their Facebook and Instagram.
Share on Social Media: Are you active on social media? Spread the word about pain online on your own or join the U.S. Pain Foundation in completing fun prompts or challenges across platforms for a chance to win prizes related to pain relief. There are some great pain relief devices scheduled for giveaways, including our Oska Pulse device! You can also change your profile picture on social media to include the #LetsTalkAboutPain frame

.
Shine Blue: We love a good excuse to put up holiday lights early! The U.S. Pain Foundation and Oska Wellness are petitioning landmarks to shine blue for pain, lighting up their buildings at night to stop people in their tracks and prompting the question "why is your building blue?" However, you could string up blue holiday lights this September at home to start a discussion on a smaller scale in your own neighborhood!
Attend Events: If you'd like to learn more about pain or share your story, consider attending one of the free, online event

s

hosted by the U.S. Pain Foundation, or find support group meetings and other events in your area.
Be Vulnerable: Being vulnerable is tough in general, but for many suffering from pain, it's even harder if their experience with pain hasn't been well received by strangers or loved ones in the past. Try to share your story or thoughts on pain more openly this month, with the knowledge that doing so has a greater purpose of making people more aware.
Research New Technologies: Many brands with emerging tech-driven wellness solutions will be especially active this month. Take the time to check out all the great new non-drug treatments available, like our Oska Pulse, to learn more about devices that could help relieve your, or a loved one's, pain. These are a great alternative to prolonged use of over-the-counter pain killers.
At Oska Wellness, we're passionate about helping people live more active lives with less pain through tech-driven wellness solutions, so we're happy to support Pain Awareness Month in its endeavor to educate and bring awareness to an issue that is very near and dear to our hearts. We're proud to bring our safe PEMF device, Oska Pulse, which has no reported side effects, to people suffering from pain to help them find relief without drugs. For more information, you can visit www.oskawellness.com.
If you suffer from pain, know that you are not alone. There are an increasing number of resources available to help you as awareness for pain grows, and support groups online and in person across the country. We encourage you to not lose hope and speak with your doctor to develop a pain management toolkit that's right for you!
---
Share this post
---
---