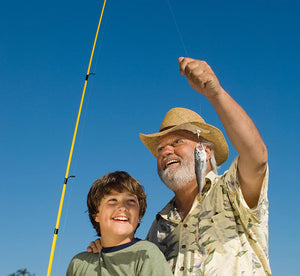 Why are pharmacy prescriptions so specific in their strength and frequency of administration?
Why doesn't a surgeon use a butcher's knife for delicate surgery?
Why do radiologists measure x-ray exposure so carefully?
In all cases precision is the answer.
The scalpel allows for precise incision and minimal trauma to surrounding tissue.
The minimal dosage of powerful drugs prevents patient side-effects and overdose.
The exact amount of radiation allows for safe medical imaging.
Precision, in the field of health and medicine, underlies its defining factor – the very wellbeing of patient outcomes in treatment and recovery.
Oska Pulse holds this principal at the very core of its design, development and application.
Utilizing Pulsed Electromagnetic Field (PEMF) technology, Oska Pulse specifically targets the area of trauma with precise electro-magnetic wave frequencies to alleviate pain and assist in tissue regeneration.
With PEMF technology – just as in the examples above – power, potency and intensity are not the measures of effectiveness.
By specifically targeting the four key tissue types with exacting precision, Oska Pulse speeds the body's natural recovery at the cellular level.
And it does this drug-free - with no side-effects - in a fully portable, non-invasive device.
While other comparable devices may use power or output as a major selling point, Oska Pulse places the specificity of its frequencies and precise waveforms as the key scientific contributors to its widespread success.
Oska Pulse is clinically proven to relieve pain using a sequential protocol; a varied frequency range that modulates the cell membrane to speed recovery. It is designed to replace the endogenous electrical fields generated by the body that may have been compromised due to injury, disease or degenerative issues.
The Sequential Treatment Program (STP) used by Oska Pulse contains four programs recognised for their efficacy.
Electromagnetic fields are powerful waves that have been harnessed for use in medical technology with PEMF and Oska Pulse.
At one end of the Electromagnetic spectrum you have potentially harmful ionizing radiation such as the suns UV rays. At the other end, you have non-ionizing radiation, generally perceived as harmless to humans.


Oska Pulse falls into the low frequency category, alongside personal computers and FM radio.
When considering if any medical treatment and the research and technology behind it is right for you and your unique circumstances, be sure to do your own research and get all the facts.
Oska Pulse delivers effective pain relief with minimal power and no excessive force - just as in the surgery, pharmaceutical, and x-ray diagnostics examples listed as the top of this article.
with many things in life, sometimes less is more.
To find out more about Oska Pulse, view our FAQ section here
𝗦𝘁𝗮𝗿𝘁 𝗟𝗶𝘃𝗶𝗻𝗴 𝘄𝗶𝘁𝗵 𝗟𝗲𝘀𝘀 𝗣𝗮𝗶𝗻 - 𝗖𝗹𝗶𝗰𝗸 𝗵𝗲𝗿𝗲 𝘁𝗼 𝗕𝗨𝗬 𝗻𝗼𝘄!
---
Share this post
---
---