PEMF, Oska Pulse and Sport Injury Recovery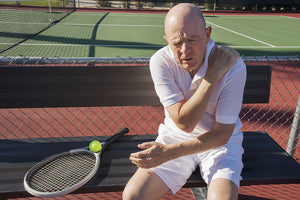 Rest, Ice, Compression and Elevation.
The R.I.C.E. method for sports – and more generalized – types of injury involving sprains or strains is tried and true.
Often recommended by general practitioners for mild to moderate injuries, it is a simple self-care technique that can reduce swelling and pain and speed healing.
Although it is simple enough to use this method at home, it is also used by professional athletes and doctors in sports teams across the world to combat ongoing niggles that are part and parcel of a full-time athlete.
A key difference here is that professional athletes also have an array of specialists, equipment and technology at hand to can hasten the recovery and healing process and get them up and about on a weekly basis for the next match, meet, or competition.


In a home setting, the average recreational athlete does not have unlimited access to consultants, dieticians and masseuses, and most of us don't know anyone who has used a hypobaric chamber, let alone used one themselves!
However, some technologies are becoming available for use in the wider community outside of multimillion dollar sporting institutes and team franchises.
Personal monitoring equipment is a well-known example. With the advent of smartphones, software applications and wearable activity monitors such as Fitbit, anyone can keep close tabs on their exercise levels to increase output and manage their fitness programmes and injury risk in minute detail.
Another example is the increasingly widespread use of Pulsed Electromagnetic Field technology in effective pain management and injury recovery.
PEMF, as it is known in sports medicine circles, is the power behind our own Oska Pulse; a portable, wearable device that targets the four key tissue types to relieve pain at its source and speed the body's natural recovery at a cellular level.
PEMF is a widely utilized technology with successful clinical uses across a wide spectrum of tissue regeneration applications from bone growth through to pain management.


The technology has been clinically deployed for over 60 years and its efficacy is established in over 10,000 clinical studies.
Before Oska Pulse, PEMF machines were large and bulky – often confined to stationary use in doctor surgeries and clinical settings.
With Oska Pulse, you can effectively treat pain and assist rehabilitation on-the-go. It's small and light, about the same size as a mobile phone. This means you can easily take it with you wherever you train - carry it in your pocket, your bag or strap it to your waist, chest, arm or leg.
Oska Pulse works by emitting a continuous pulsing field that passes through all tissue types. Imagine a pebble being thrown into a lake – small waves radiate from the center until they disappear into the distance.
Similarly, small electromagnetic waves produced by Oska Pulse travel to the injury site to soothe and relieve and assist your body in its natural regeneration and healing processes.
Oska Pulse is suitable for use with all major types of muscle, joint and tissue complaints including back, neck, shoulder, knee and elbow sprain, strain and pain. It can be used in compliment with existing treatment – including the R.I.C.E. method – or as a stand-alone therapy.
Drug-free with no side-effects Oska Pulse just may be the solution you have been searching for to gain an edge in your training, injury prevention and recovery.
To find out more about Oska Pulse, view our FAQ section here
𝗦𝘁𝗮𝗿𝘁 𝗟𝗶𝘃𝗶𝗻𝗴 𝘄𝗶𝘁𝗵 𝗟𝗲𝘀𝘀 𝗣𝗮𝗶𝗻 - 𝗖𝗹𝗶𝗰𝗸 𝗵𝗲𝗿𝗲 𝘁𝗼 𝗕𝗨𝗬 𝗻𝗼𝘄!
---
Share this post
---
---