Regain Control of Your Pain Management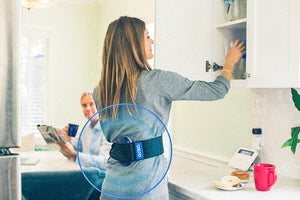 If you're like most people, you get slammed with some type of body pain from time to time.  Whether it's the result of your workout routine or from hunching over your desk to pound away on your keyboard, lifting up your kids or even from lugging the trash cans out to the curb, it's almost inevitable that your neck or back or knees or some other body part is going to act up occasionally.
That's probably to be expected.  But how you take care of your pain, that's what is in question.
So why not take control of it?  Some look to medicine for their pain, others turn to holistic, homeopathic remedies, still others acupuncture, and if you go deeper, surgery may be another option.
Now, though, there's another way to deal with chronic pain, and it doesn't include meds, surgery or powerful and often addictive painkillers.
It's the result of new technology and innovation, safe, non-invasive, drug-free and easy to use, wearable and totally portable –Oska Pulse.
This new health technology product utilizes patented eTec Pulse Technology that calls on Pulsed Electromagnetic Field [PEMF] therapeutic technology.   These pulses increase blood flow, reduce inflammation and ease pain.
The PEMF technology has been around for years, but never before in a wearable, portable device like the Oska Pulse.
Chronic pain affects more than 100 million people every year, but the Oska Pulse offers a new way for anyone with pain to take control of managing it on their own.
There are Oska Pulse success stories all around.
This is from Oska Pulse believer Norman H:  "Using PEMF therapy has helped me to at first limit, then remove 95 percent of all my pharmaceutical medications.  A must-have for anyone managing their chronic pain."*
Another Oska Pulse fan is Celeste C:   "Oska has allowed me to be more active without fear of increased pain.  It has improved my function, and as an added perk, my leg swelling (idiopathic edema) and sleep has improved."*
And then there is this, from Oska Pulse user Tracey M:  "I've had RSC/CRPS for 22 years.  I did ketamine infusions for 10 years and many other treatments and a lot of medications over the years.  I've been using Oska for nine months.  When I started, I was bed-ridden and my pain was 10+ on a daily, hourly, every-minute basis.  I've gotten better pain relief from Oska than I ever did with ketamine infusions.  I'm actually in the process of decreasing my pain patch for the first time in 15 years.  I also have nerve damage behind my ear.  I used to get three to five migraines a week.  I haven't had one single migraine since my first week with Oska.  It's allowed me to take my life back from pain."*
Well said.  Find your voice.  Regain control of your pain management.  Oska can help make it happen.
*These are individual results.  Your results may vary.
---
Share this post
---
---