Our 2019 Back Pain Report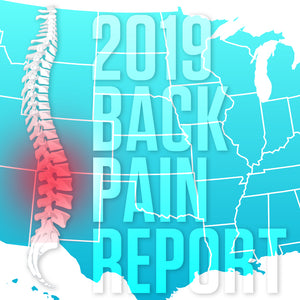 We recently conducted a survey of over 1,000 American adults with back pain, and the results may surprise you. The findings from the report reveal that over half of respondents with back pain take over-the-counter medications at least five to seven days a week, but most do not get relief. According to the data, fewer than 20 percent of respondents who take over-the-counter medications find them to be helpful in relieving their back pain.
The Back Pain Report also revealed that two-thirds of respondents take opioids five to seven days per week, and indicates that opioid users may be at greater risk for combining medications as 65 percent of respondents who use opioids also take over the counter medications.
What do all these statistics mean? They demonstrate that over-the counter medications don't provide real relief for back pain sufferers, and that in spite of this, people continue to take them anyway. This is concerning because long-term use of over-the-counter drugs puts pain patients at risk of adverse side effects, including gastrointestinal bleeding, cardiovascular problems, nephrotoxicity and kidney failure. Doctors even caution against regular, long-term use of over-the-counter medications because of these side effects. Additionally, it's likely that many back pain patients are continuing to use these drugs, despite the risks, because they've lost hope that they will find another option that will help or serve them better.
Luckily, a new wave of tech devices are hitting the market to bring pain patients the relief they're desperately looking for, including our own Oska Pulse, a non-drug device with no reported side effects. It's clear that there's a need for alternatives and non-drug options as the evidence shows that, more often than not, medications just aren't getting the job done in helping patients relieve their pain.
We're passionate about providing an alternative for people in pain that doesn't put them at risk for adverse side effects, and is safe for continued use for pain. Oska Pulse is a portable, wearable device that utilizes Pulsed Electromagnetic Field (PEMF) technology – a proven technology in medical settings for over 60 years that previously had many barriers to use like access and time for sufficient sessions, and so went unused. We're one of the first to make PEMF available for at-home use, which is proven to relieve pain. We encourage you to give it a try or suggest the device to anyone with back pain that may be losing hope in their search for a solution.
You can read the full Back Pain Report here. For more information about Oska Pulse and how it uses Pulsed Electromagnetic Field (PEMF) technology to relieve pain, please visit www.oskawellness.com. And if you have back pain, check out some of our tips to help you manage your pain here.
---
Share this post
---
---